Future of work upskilling based on science
Our team of learning, development, and change management experts are committed to translating complex work skills theory into practical lessons for anyone
Our Research
We research the skills, habits and behaviors needed for humans to thrive in an ever-changing world dominated by technology
It turns out that this new world of work really is different and needs a new set of skills. It shouldn't be surprising – almost every aspect of what work we do, how we do it, when we do it, where we do it, and even why we do it has changed and is continuing to change.
In our research, we found that while most people love flexible working arrangements, those very same people struggle with starting each day motivated, separating work from the rest of their lives, keeping close connections with others, and switching off well at the end of the day, to name just a few challenges.
How do we know? Well, we studied people. Lots of them. People from all walks of life doing all kinds of jobs, from all kinds of places, at all kinds of times. That research is what has fueled the more than 100 Learn/Do experiences currently in BillionMinds. But we are just getting started. Through initiatives like The Resilience Study, our objective is to help humanity proactively adapt to constant evolution, enabling everyone to flourish in novel work paradigms.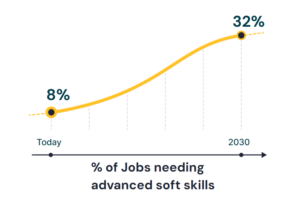 "The rise of AI is likely to make soft skills even more important for future jobs, as these are precisely the types of skills that machines cannot easily replicate."
PwC, "Workforce of the Future: The Competing Forces Shaping 2030"
Learn more about The Resilience Study
Lesson Design
We design our lessons to embed sustainable behaviors in anyone with a growth mindset and an internet connection
Are you a researcher interested in collaborating with us?